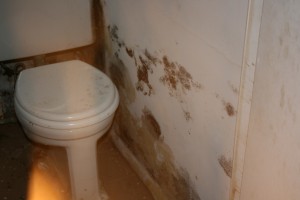 Mold grows anywhere that there is a food source and moisture. Add in the warm temperature and humidity of a bathroom, and you have the perfect environment for mildew and mold growth.
– When finished showering, towel-dry surfaces with excess moisture. Use  a squeegee on the shower walls.
– Keep your bathtub free of 'stuff'. Shampoo and conditioner bottles, body wash, razors, shaving gel, washcloths, loofah sponges and other items in and around your bathtub provide places for moisture to accumulate and mold to grow.
– Keep your towels clean and wash bathroom rugs frequently to prevent mold from forming.
– Use a mildew resistant shower curtain. Wash and replace it as needed.
– Clean regularly and promptly clean up any water or liquid spills.