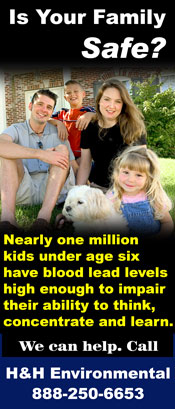 We provide comprehensive lead testing and lead inspections in the Northeast. Let us put our experience to work for you.
We service areas in the states of NY, NJ, CT, MA, and PA..
Northeast Lead Testing and Lead Inspection Services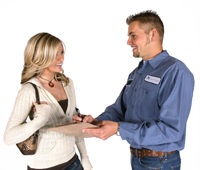 H&H Environmental has you covered:
• Lead based paint inspections by our State Licensed EPA Certified Inspectors

• Risk Assessment & Hazard Screening - Get the facts about your property, identify current or potential lead hazards if any, know your options, and lay out a plan to bring your property into compliance with state, federal and EPA/HUD safety regulations.
• Clearance Inspection & Testing - you've had the (Lead Abatement) work perfomed, now the law requires you to make sure it was done right. H&H can help.
H&H Environmental Construction and Consulting provides certified lead testing and lead inspections for New York, New Jersey, Connecticut, Massachusetts and Pennsylvania. We provide visual assessments, limited environmental samplings; including dust wipe samples, soil samples, and surface-by-surface lead paint testing. H&H Environmental can provide answers to all of your lead-related questions.
The Dangers of Lead Exposure
Lead is a powerful neurotoxin that can present serious health problems in humans, including the development and functioning of the body. Damage can occur in organs including the kidneys, blood, and central nervous system. The effects from leat exposure can result in a diminished quality of life.
There are a number of sources that can cause exposure to lead. Indoor dust may contain lead particles released from lead-painted surfaces. Lead-contaminated soil from the outside can be tracked in. Even drinking water may contain lead from lead solder in the plumbing or from old pipes that contain lead.
Childhood Lead Poisoning - A Serious Health Risk
Lead poisoning in children is the number one environmental health risk in the United States. A child exposed to lead can suffer a number of health-related problems, including delayed development of the brain and the central nervous system. Lead exposure at a very high level can cause convulsions, comas and death. Even at low levels, lead can cause reduced IQ, learning disabilities and increased behavioral problems.
According to the EPA, at least 19 million homes are estimated to have lead-based paint hazards. At least 4 million of those homes have young children under the age of six living in them.
Lead Poisoning is Completely Preventable!
A lead risk assessment from can H&H Environmental Construction and Consulting can determine whether or not your home or business environment contains lead hazards.
We provide lead Inspection and lead testing services in the following states:
We accept all major credit cards. Call us today at
(888) 250-6653 to schedule an appointment.